Thursday, April 30, 2009
I have been what my brother would describe as "long" when it comes to writing this blog. Every time I think about writing a new post something important like a new episode of 'Katy and Peter' or 'Supernatural' comes on.
Anyway loads of stuff has happened since the last time I wrote (which was about 7 years ago) but I doubt I'll remember it all. I shall just have to be more blogrolific in the future....
Me and my boy got back from LA. FINALLY.
I was home for a measly 6 days before my bum was back on a plane and on the way to the coldest and rainiest place on the earth aka Montreal. Turns out all that time in LA was for for the best because I got a job out of it. I was in Montreal for two weeks shooting a pilot for american TV called 'A Beautiful Life'. 
They gave me a new look for the show.....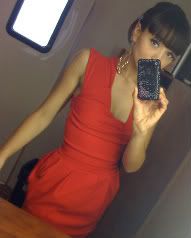 Darker and with a fringe. You like? (Yeah that's right, I did indeed bling my iPhone. So fucking what!?!)
I think this show could be really good. It's all about young models living in New York. If they get it right it's gonna be hot. Elle Mcpherson plays the owner of the modeling agency and me and Mischa Barton play young models. 
We've only shot the pilot and we've already got to recreate this seasons entire Zac Posen runway show. Those who know me know I love fashion so I was over excited about this. Zac was really sweet and actually came by and did a little cameo. He then stood at the end of the runway and critiqued our walks.... My mamma didn't raise no fool and I made sure I practiced that shit in the safety of my hotel suite whilst watching Miss J on America's Next Top Model. My runway look for the show is like a darker, bad ass Chung Li. Spinning bird kick!!!!
I wanted to keep the dress but really and truly where the heck would I ware it?
I'm back in London now and have started filming the third season of "Secret Diary of A Call Girl". Things are going well and Bambi has such a cute story line which I can't tell you anything about so don't even ask me. Here's a picture of us at work though.


I have nearly broken my ankle in those shoes......


Me and my boy went for a lovely dinner with some friends of ours the other night. The menu was Congolese and it was TASTY. Yeah that's right capital letters TASTY. We had goat stew and some of the best plantain I've ever eaten. Book yourself a table at the Double Club in Angel soon.
I want to tell you all about LA but I'm lame so I'm just gonna stick in a bunch of pictures instead.....
LA is the land of puppies. It is sinfully easy to buy one and I very nearly did on many an occasion. This little guy was amazing.
Me my girl
Madea/Kevin
. ha ha ha ha!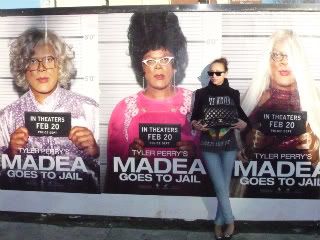 Me and my boy laughed our asses off during this film. I hope it gets released here and if it doesn't then watch it online!
My boy was beyond patient with me and drove me everywhere for the first week because I was still traumatized from my crash. Bless him.
Drunken behavior. I'm still trying to pose seriously though. Terrible!
The end :)
Dress- Beckerman dress from Spring 06 with vintage feather pin
Jacket- Vintage YSL got it from Housing works
Sunglasses- Vintage from 74th and Columbus Flea Market
Shoes- Converse from David Z in NYC
Dog- Cubby Pomeranian.. CUTE!
The Look
: Runaway Bride + Miss Piggy
Fun Fact
: I just watched the movie Runaway Bride with Julia Roberts and thought it would be fun to be an 80's Runaway Bride and I wore my favourite color PINK!
Dress- Vintage Victor Costa from Edith Machinist in NYC
Black tights
Shoes- Prada satin shoes from Mom
Earrings- Pearl earrings from a vendor on the street in NYC
The Look
: Edie Sedgwick + Piano Recital
Fun Fact
: I am wearing this dress backwards because it's more fun! There are sequins in the back!
Jacket- Vintage Montana from my Mom
Camisole- Moschino Couture from Giorgio Femme in Toronto
Pants- Harem Pants,Comme des Garcons for H&M
Boots- Vintage Gold Cowboy boots
Charm- Louis Vuitton Key Fob
Dog- Cubby Peter Denzel Beckerman (Pomeranian Extraordinaire)
The Look
: Architect + Genie in a Bottle
Fun Fact
: These are another pair of cowboy boots we spray painted Gold. We were kinda in a metallic cowboy boot phase! hahha!
Wednesday, April 29, 2009
gossip girls
Posted by duff
at 4:05 PM
0 comments

Knitted Jacket- Vintage YSL from Chelsea Flea Market in NYC
Camisole- Beckerman Spring '06 silk charmeuse camisole
Crinolin- Katy K New York from F/X store in Toronto
Knee Socks- from H+M
Boots- Browns shoe store in Toronto
Necklace- Gold beads from Venice Beach in Italy
Belt- Gucci belt
Earrings- Paloma Picasso "X" earings from Tiffany's
Headband- Prada Turban headband from Spring'07 Collection
Bag- Prada Venice Spring '04 Collection
The Look
: The Irish Jig + Dutch Girl
Fun Fact
: I did an Art course in Italy when I was sixteen years old. We went to Venice for the weekend and we made sandcastles and a sand mermaid on the beach when I bought this necklace from a necklace vendor.
Dress- Vintage Cow Dress from Marmalade Vintage in NYC
Bolero- Vintage Bolero Misselli Originals from store Stella Luna store in Toronto
Black thigh highs- Marc Jacobs (worn under dress)from Marc Jacobs store in NYC
Shoes- Bess Boots from Bess NYC
Hat- Dollerama Store
Bag- Samantha made it..YAY!
The Look
: Cow + Skateboarder
Fun Fact:
This dress makes a lot of people happy! Everytime I wear it, someone shouts out from their car at me, while driving, that they love it!
Jacket- Vintage (No label) from the Chelsea Flea Market, NY
Dress- Vintage Stefano Dice Sweater from a Vintage Store in Australia
Black tights- Hard Tail Leggings from M.Fredericks in LA
Boots- L'Autre Chose from Otto Tootsie Plohound, NYC
The Look
: Las Vegas + Navajo
Fun Fact
: We're standing in front of Japanese Forest Grass - scientifically known as
Hakonechloa macra
!
Tuesday, April 28, 2009
Jumpsuit- Seersucker Jumpsuit Beckerman SS'09
Shirt- Vintage Hawaain Shirt Nygard Collection
Necklace- Made of tiny dyed seashells, from Chelsea Flea Market NYC
Shoes- Vintage Walter Steiger
Bag-
Andrea Brueckner
Large Coral Market Tote
Teddy Bear Charm- Salvatore Ferragamo
Sunglasses-
Retro Super Future
Ring- Lalique
The Look
: Florida 1960's Tourist +
Caribbean Motel
Fun Fact
: Andrea Brueckner is one of our best friends and we love wearing her bags! this bag is one of my favourites!
Blog Archive